Chair Bob Jensen Honored at Recent Event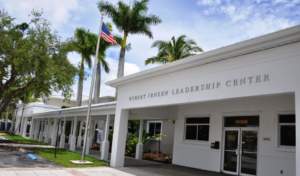 Twisted aluminum siding, broken two-by-fours, and soaked insulation is all that remained of the four hundred trailers local fruit and vegetable pickers called home for two decades. That morning after Hurricane Andrew, Everglades Labor Camp was strewn in pieces across a farm field. Months later, Bob Jensen stepped in as the Chairperson of Everglades Community Association (ECA), recruited Steven Kirk as President, and remained chair for more than twenty-five years. Jensen helped ECA evolve to Rural Neighborhoods – an award-winning local charity that now serves seven rural communities and provides more than 1,700 rental apartments to rural poor and elderly households.
Bob Jensen's leadership in that path was honored June 1, 2018, as the Robert Jensen Leadership Center was dedicated in Florida City. "Bob has led more than five hundred meetings and taken more than a thousand phone calls from me since we began to rebuild and I learned something about stewardship, inclusion, or fairness in every conversation." remarked Steven Kirk. "Just a few years back Bob told me he was going to step back and only serve in places where he made a difference. Trouble was, Bob made a real difference every place he served."
The Robert Jensen Leadership Center will serve as the charitable headquarters for Rural Neighborhoods work and, apropos to Bob's role as local historian, will feature rotating exhibits on farm labor. The current exhibit features black and white documentary photographs by architect Ted Hoffman.
Fellow board member Arturo Lopez summed up Bob's leadership. "Bob's caring is person to person. He serves others, cares about the well-being of people and the communities to which they belong – Black, white, Latino – it's that choice that brings him to lead."
Click here for the Spanish version / Haga clic aquí para la versión española
Share