Resident Leadership Academy Graduates
Ten participants recently completed Rural Neighborhoods' first Resident Leadership Academy in Immokalee. The Leadership Academy was designed to help residents expand their skills in areas like communication, resolving conflicts, and working in teams. The group also learned about ways to get involved to improve the community. The three-day class ended with participants breaking into groups to work on community projects they selected including improving literacy, learning computer and Internet skills, keeping children safe, and expanding recreational opportunities. Over the next few months, the participants will work on these projects and then present their results back to the group at a follow-up meeting.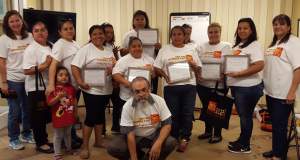 The Resident Leadership Academy was organized by Rural Neighborhoods under its Eden Park-Esperanza Place (EP2) initiative which focuses on western Immokalee. Under the EP2 initiative, Rural Neighborhoods staff work with residents to identify community needs and search for solutions. Some of the other EP2 activities that residents have helped start already include partnering with the University of Florida's Extension Office to offer Healthy Cooking for Parents Classes, a sewing class in partnership with Immokalee Housing and Family Services, and a March Clean-up in Eden Park in collaboration with the Sheriff's office and Collier County Code Enforcement.
The class was funded through a grant from NeighborWorks America.  Rural Neighborhoods will be offering another Resident Leadership Academy this summer. For information on the next class or to register, please contact Priscilla Roman at 239-658-3300 ext 6714.
Click here for the Spanish version / Haga clic aquí para la versión española
Share