Casa Amigos Apartments Opening Soon
Rural Neighborhoods will open its new Casa Amigos apartments in Immokalee in October. Centered around a courtyard, the new development has 24 units, each with 2 bedrooms and 2 baths. The apartments are located at 2687 Amigo Way and serve both non-farmworker and farmworker families. Rents range from $674 to $1,123 per month including water, sewer and electric.
Prospective tenants can call 239-657-2009 to schedule an appointment to submit their application. Applications can be downloaded here or picked up at 2693 Marianna Way during business hours. Additional information about income and eligibility is available here.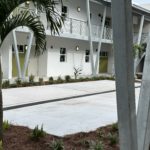 Share