New Sculptures At Home in Eden Park
Eden Park – Esperanza Place residents awoke the morning of June 27th to discover new brilliant red and yellow structures on the north and south sides of Westclox Street in rural Immokalee, FL.  The vibrant, painted, fabricated steel sculptures by award-winning sculptor Adam Walls launch Rural Neighborhoods and EP2's use of creative placemaking as a tool in neighborhood revitalization.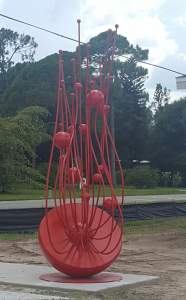 The tentacles of the red Core Growth rise from a steel sphere at the entrance to Hatchers Preserve as new families move into our new 18-unit. single-family rental community.  The work references images from sea life and celebrates natural life that springs forth from its core.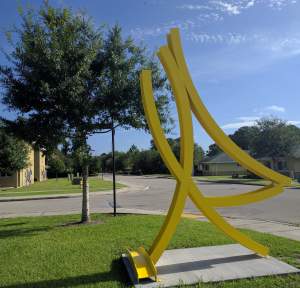 Weight and Balance is placed 400 yards away at Eden Gardens, our 92-unit rental development that serves agricultural workers.  The large-scale sculpture illustrates the grace and balance that can be extracted from strong, hardened materials.
These installations launch Rural Neighborhoods' efforts to increase the EP2 brand and build neighborhood identity among neighborhood residents.  If you are interested in how you can become engaged in our art-in-public places work, please contact Steven Kirk at 305-242-2142. Click here for the Spanish version / Haga clic aquí para la versión española
Share