Rural Partners with Keys Community Land Trust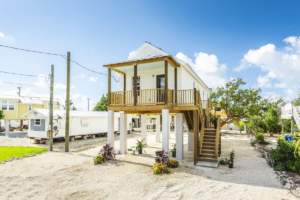 Maggie Whitcomb established the Florida Keys Community Land Trust in the immediate aftermath of Hurricane Irma by assembling lots throughout Big Pine Key for the rebuilding of what was "ground zero" on September 10th, 2017. Generous local giving helped the land trust break ground on its four-initial, scattered- site Keys Cottages and set aside six additional lots for development.
Rural Neighborhoods and FKCLT have announced Seahorse Cottages at Big Pine Key, a partnership to build twenty-two storm resilient, single-family rental homes built high above storm surge and sea level rise and targeting households at 80% AMI. The $8.64M project received $1.10M in conventional financing from CenterState Bank and was awarded $7.54M in CDBG-DR financing from Florida Housing Finance Corporation.
Share