Residents Complete Local Leadership Academy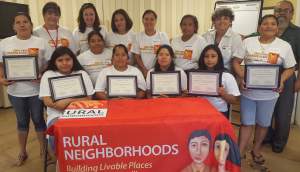 A new group of residents recently graduated from Rural Neighborhoods' Resident Leadership Academy (RLA) in Immokalee.  The students spent three days developing new communication, team building and leadership skills.  Their final task was to select a community project in which they want to get involved.
Rural Neighborhoods' RLA was facilitated by Carlos and Rocio Salgado from non-profit EnFamilia Inc.  During the class, they demonstrated the importance of being involved in the community and the positive impact residents can have.
Funding for the class was provided by NeighborWorks America.   The class is part of Rural Neighborhoods' on-going efforts to involve residents in improving the Eden Park-Esperanza Place (EP2) areas of Immokalee.  Eden Park-Esperanza Place is a growing, family friendly community with diverse cultures.  To learn more about the Resident Leadership Academies, contact us at 239-658-3315.
Click here for the Spanish version / Haga clic aquí para la versión española
Share