Students Host Spring Break Party
College students from Bowdoin College in Maine had fun throwing a Spring Break Party for children of the Reserves at Eden Gardens Complex operated by Rural Neighborhoods. The Bowdoin students were visiting Immokalee for an alternative Spring Break in which they do volunteer work for local non-profit groups. After planting shrubs and helping clean the property the day before, the Spring Break Party for children was a fun change of pace.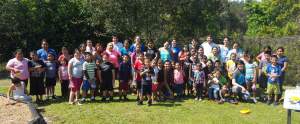 Over 40 children attended the party along with their parents. The college students did face painting, led three-legged and sack races, and helped with water balloons and an Easter Egg hunt. The moms in attendance did Zumba in the parking lot while watching their children play at the party.  Staff and the families are already looking forward to next year's event when the college students return.
The Reserves at Eden Gardens has 92 units of affordable, rental housing for farmworker and low-income residents in Immokalee. The complex opened in 2009 with a mix of funding from USDA, HUD, Low-Income Tax Credits, and the Federal Home Loan Bank.
Click here for the Spanish version / Haga clic aquí para la versión española
Share