Fifth Third Bank's eBus Rolls into Immokalee
Fifth Third Bank partnered with Rural Neighborhoods to bring its eBus to residents in Immokalee on May 3.  The eBus offers computers for residents to easily and confidentially check their credit scores, research and apply for jobs, and apply for other bank services.  The eBus visited Main Street Village, Eden Gardens, and Sanders Pines while in Immokalee.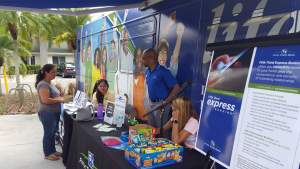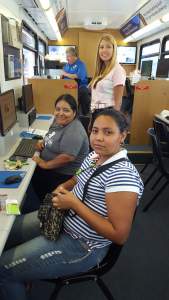 Staff from Fifth Third Bank and the non-profit group, HELP, also presented information on purchasing a home and building credit.  Residents learned what banks need in terms of work history and credit scores to qualify someone to purchase a home.  They also learned about several of Fifth Third's flexible programs designed to help residents establish credit and build a banking relationship.
HELP currently offers free classes on budgeting that include learning to use a computer.  The next class will be in Creole at Main Street Village in June.  For information on upcoming classes, contact Maria Gonzalez at 239-434-2397, ext. 200.
Click here for the Spanish version / Haga clic aquí para la versión española
Share