Revitalization at Esperanza Place: Land Development Leads to Investment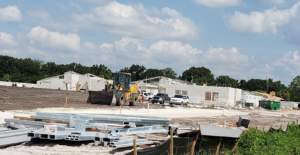 Rural Neighborhoods' Eden Park-Esperanza Place Neighborhood Revitalization effort has led to a successful rebuilding approach. Esperanza Place PUD, a 32-acre parcel acquired by RN in 2015 and freshly entitled for new real estate development, serves as a launching pad for new neighborhood projects.
Instead of building out the parcels itself, RN identified neighborhood needs, e.g. new homeownership and domestic violence services, and recruited partners by offering below-market land and improved infrastructure. Enter partners Habitat for Humanity and The Shelter for Abused Women and Children. Each project is underway: the initial 12 of 59 Habitat homes are rising from foundations. Just next door, The Shelter's 32 beds for domestic violence and human trafficking victims also are taking shape. Together, Esperanza Place is the setting for an improved EP2 neighborhood.
Share