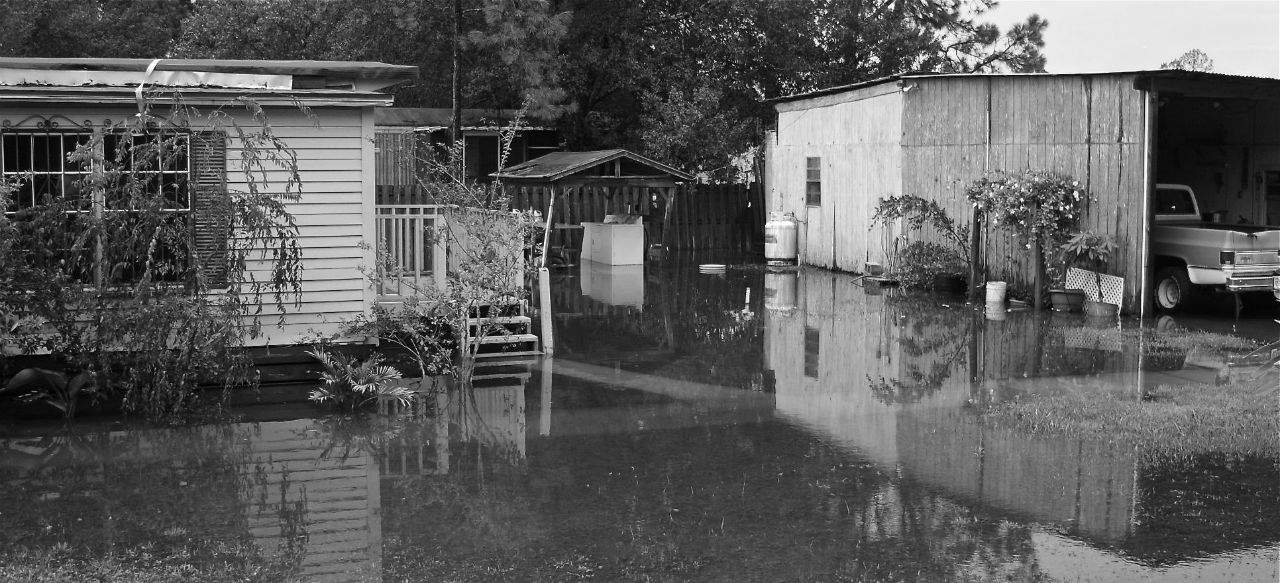 1992 Hurricane Andrew
To learn our story on Hurricane Andrew and its impact on all we do, click The Aftermath.
2004 Hurricane Charley, Frances, Ivan and Jeanne
Four hurricanes hit Florida in 2004 and damaged more than 700,000 homes. Hurricane Charley's impact reached inland agricultural areas with Hardee and Desoto Counties being especially hard hit. This rural impact stirred us to take the lead in insisting Federal and state government agencies increase Spanish-language outreach to minority crop workers and USDA Rural Development seek emergency supplemental appropriations for needed housing and community facility programs.
Just over a month later Hurricane Frances and Jeanne had reached landfall near Stuart – the first time a hurricane made landfall in the same place as a previous storm of the same season. Rural Neighborhoods helped Florida Housing Finance Corporation shape policies to set aside resources to house agricultural workers displaced from damaged mobile homes and other run-down housing. Our Live Oak Villas community, then under construction, used these new resources to target its rental units to better serve poorer residents in the Fort Pierce area.
Our hard work led Governor Jeb Bush to name Steven Kirk, President of Rural Neighborhoods, one of nine citizen members of the Hurricane Housing Study Group headed by Lt. Governor Toni Jennings. The Study Group identified regulatory barriers that hindered the rebuilding of suitable housing, ensured effective targeting of state and federal resources for hurricane recovery, and recommended market-based strategies to help communities better meet the housing needs of their residents.
2005 Hurricane Katrina, Rita and Wilma
Hurricane Katrina struck Miami-Dade in the days preceding its more vicious landfall in New Orleans, and Homestead and Immokalee suffered extreme and widespread roof damage from Hurricane Wilma. Tenants suffered extended power losses in both storms and Rural Neighborhoods turned to organizing emergency supplies for more than 500 households as ice and meals became critical. Our physical damage, too, was severe – nearly a half million dollars as roofs and soffits were torn from scores of apartments.
But our losses were not significant compared to Katrina's destruction to the Gulf Coast. Our help was sought there. Past experience in Hurricane Andrew placed us in a technical assistance role to grass-roots organizations in Mississippi, Louisiana and Texas. Out-of-state responders traveled to Homestead for a moment's respite and to absorb recovery and rebuilding lessons we had learned in the wake of a catastrophic storm. Rural Neighborhoods consulted with national organizations advising them on which Federal programs at USDA and HUD we believed were critical to rebuilding. The Local Initiative Support Corporation recognized Rural Neighborhoods at its annual meeting "for its work in making rural America work again" in the months following the 2005 storm season.
2013 Hatchers Preserve: Replacement Housing
One lesson we have learned is rebuilding is a slow and arduous task. It's different than the immediacy of recovery. Every so often it goes on for a decade. Our commitment is to be around – to make sure communities build back better than before. Rural Neighborhoods embarked on a new partnership with Collier County in 2013 to provide replacement housing in Immokalee, FL related to storm damage from Hurricane Wilma in 2005 and to Tropical Storm Fay in 2008.
Using a creative mix of Disaster Recovery Initiative, HOME, CDBG and market-rate loans, our Hatchers Preserve is an 18-unit, single-family rental subdivision providing storm-hardened housing as an alternative to older mobile homes at-risk to severe winds. It prioritizes households impacted by earlier storms and those who reside in structures that fail current code standards.
2017 Hurricane Irma
Hurricane Irma devastated portions of the Florida Keys then moved northwest affecting Homestead and Immokalee. Though Rural Neighborhoods' properties suffered little structural damage, it found itself again in the role of helping communities rebuild.
In 2019, it purchased the existing Tradewind Hammocks rental property in the Keys and received funding to build 31 hurricane resistant homes in Big Pine Key. In Immokalee, through generous contributions from the American Red Cross and the Community Foundation of Collier County, Rural Neighborhoods repaired more than 70 units and partnered with local groups and Mennonite Disaster Service to demolish and rebuild five homes that were beyond repair. Today, the families have safe homes designed to withstand future storms.